Clarington Martial Arts (CMA) is Clarington's premier self-defense and fitness training studio. Directly above Telma Grant, P.T., we sure know when CMA is in the building. We call it "happy noise" because we have seen the beaming faces of students in their martial arts uniforms and multi coloured belts coming and going to CMA. CMA's classes are active, energetic, fun and widely popular. CMA's instructors are highly trained and dedicated to their students' learning and safety.
 Warming up at CMA

CMA  was founded by head instructor, Karen Hillis (aka Ma'am), in 1997. As a local competitive coach as well as a mother of five children, Ma'am launched CMA with two goals:
Firstly – to create a positive training space for people of all athletic abilities to get fit, have fun and sweat buckets together.
Secondly – to gather instructors from several complimentary disciplines to offer a well-rounded martial arts education.
20 years later, we are proud to continue to be a positive environment for those looking to complete their fitness goals, and a place for athletes of all ages to build a martial arts education like no other!
CMA is family-oriented, multi-discipline, and believes in the direct education of the psychology of athletic performance, sparring and self-defence.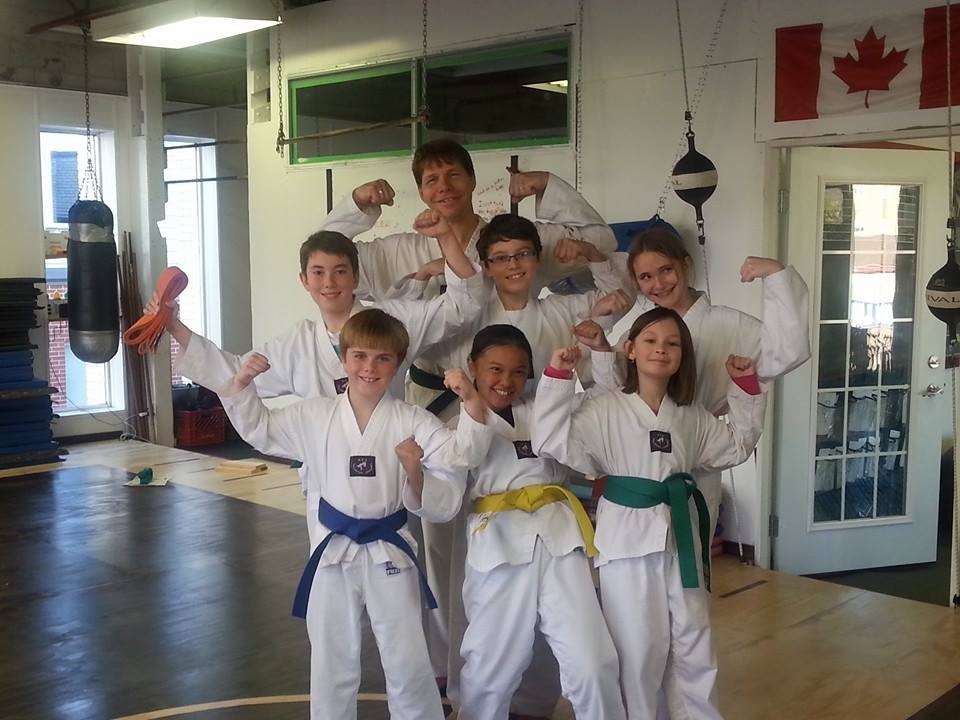 Taekwondo
Judo
Boxing
Fitness training
Free self-defense classes
Little Dragons class
In our upcoming newsletters, we will focus on a different feature of CMA.
Taekwondo
Taekwondo means literally "the way of the hand and the foot". Fast, accurate kicking and punching are the mainstays of the study of Tae kwon do. Speed, agility, balance, timing and coordination all improve through the pursuit of this challenging martial art and sport.  Suitable for adults and children. Opportunity to compete exists for interested participants. Many classes to choose from, multiple classes per day, classes are separated by belt and age.
For an active extra-curricular that is both fun and instills discipline, or if you are looking for fitness and self-defence training in a safe and dedicated setting, we highly recommend Clarington Martial Arts.